Goji brings many benefits from our unique approach to kiosks.
Simple    |    Elegant    |    Modern    |    Powerful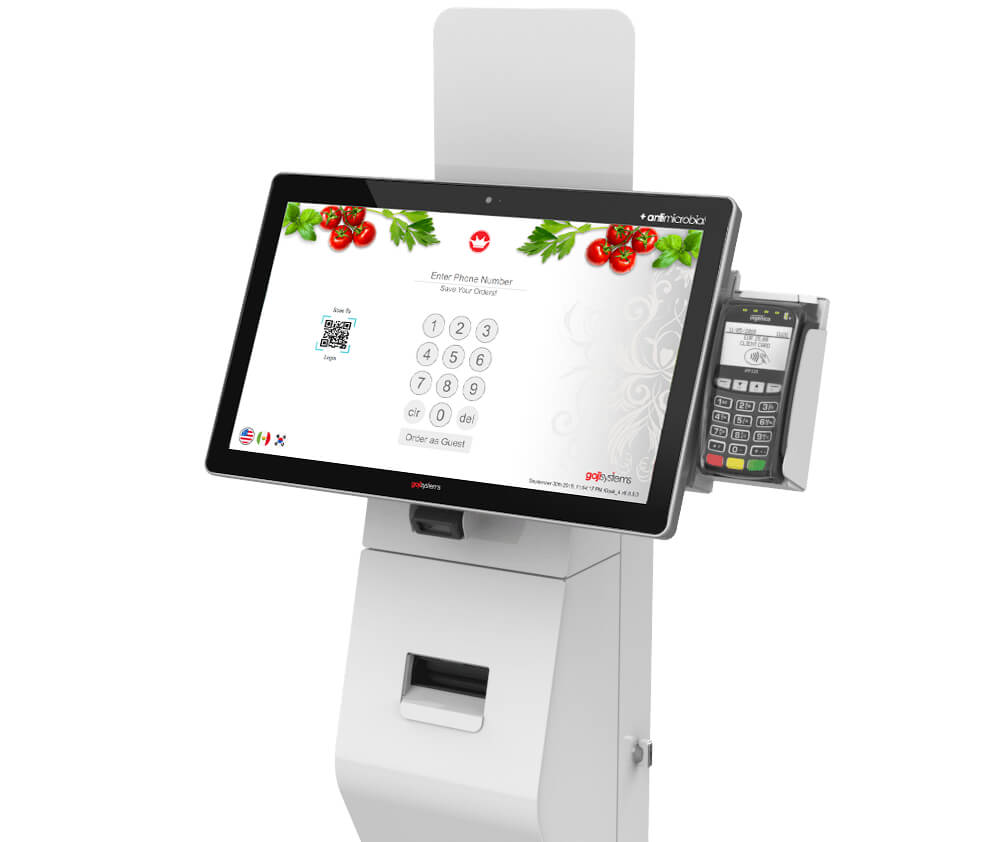 Beautiful
Customers appreciate technology that looks nice, clean, and simple.
Simple to use
Our easy to use design will be an enjoyable order process for your customers.
For Everyone
GojiKiosk is designed for ANY age group. Young and Old.
Multi Lingual
Customers can choose their native language and order in the language of their choice.
Fast Ordering
Your customers won't have to wait to get their order in during the rush.
Personalized
GojiKiosk can track customized menu items and help customers re-order next time in seconds.
Guided Ordering
Guide customers through building an item using our sequence system.
Split The Bill
Make payments with multiple cards on one ticket.
Pager and Table Locators
Pager and Table Locator entry so customers can be alerted when their order is ready.
Flexible Payments
GojiKiosk can accept Credit, Debit, Gift, NFC, EBT, Apple Pay, Google Pay, Samsung Pay.
Customize
Placing complex and customized orders is a snap.
Easy Edits
Nobody's perfect. GojiKiosk makes it super easy to go back and edit your items.
Cloud Managed
GojiKiosk is managed over the cloud via the GojiDashboard.
100% Cloud Hosted
No onsite servers. Ever. No need to manage any servers. Ever.
Easy Deployment
GojiKiosk is super easy to install and deploy at the store.
Uniquely Secure
GojiKiosk is nearly impervious to virus, malware, hacking, and infection. It can also be remotely deprovisioned in case of theft.
Easy Management
The GojiDashboard makes management simple, fast, and scalable.
Plug and Play
No Drivers to install. No software to install. Just plug it in and go.
Excellent Support
World-Class expert support available 24/7/365
Automated Updates
Operating System, GojiKiosk, GojiDashboard Software all automatically updated. Nothing to manage.
Synchronized Menus
Our menu sync makes menu management faster, easier, and more accurate.
Remote Management
Custom tools built in to remotely manage your Kiosk hardware.
Self-Healing Tech
GojiKiosk is built with tech that can self repair the Operating System and automatically reboot itself if it experiences corruption.
Always New. Always Fresh.
Our One Simple Plan includes equipment replacement and upgrades. Less downtime. Less troubleshooting. Less problems.
Improve Wait Times
Faster Ordering will cut down on lines and line abandonment.
Reallocate Staff
Reallocate your staff to become brand ambassadors to help guide customers and provide better in-store experiences.
Increase Average Orders
Self Order Kiosks can help improve average orders and upsell more consistently
Branded Experience
Deliver your brand experience. So your customers feel at home at any location.
Low Out of Pocket Costs
GojiKiosk has very low out of pocket expenses.
Customer Data
Better understand your customers and cater to their needs. Deliver better experiences.
Managed Expense
Our One Simple Plan's value makes it easy to budget and manage your kiosk. Fixed cost for replacement, upgrades and for expansion.
Increase Loyalty
Customers that have a great experience will be the most loyal customers. Better cater to your customers needs.
Tech Forward
Represent your business as a Technology forward and growing brand. Deliver a fun and unique experience.
Increase Order Accuracy
Order accuracy benefits both the customer and the kitchen. Everyone Wins.
Corporate Level Control
Control your menu from a corporate level. Lock down specific Categories, Items, Modifiers and settings.
Robust Processing Integrations
Integrated with many different credit card and gift card processors. Choose the one you like.
Real-Time Menu Management
Make adjustments to your menu in real-time. Disable & Enable items, modifiers, categories. Schedule items for any date, time, or occasion.
Ads and Promos
GojiKiosk can be used to promote your latest items, deals, and events!
Turn Key
GojiKiosk is a turn key solution which means shorter development and deployment times.
Increased Satisfaction
Better experiences improve customer engagement and your brand satisfaction. Less Friction. Happy Customers.
Talk To Someone about GojiKiosk
Helping People is Our Passion
Our Mission is to be the most trusted name
653 W Skippack Pike, #12 Blue Bell, PA 19422